Luxury holidays for the whole family
No matter what Leading Family Hotel in Austria or Italy you choose, they all have one thing in common: first-class quality. The four-star superior family hotels have made it their mission to offer highest standards for unforgettable family holidays – and that's visible in every aspect.
Leading Family Hotels are not just about excellent design, functionality and infrastructure. They're about offering families a first-class holiday experience with all amenities.
Family hotels for discerning guests
Family holidays are something special – and you can tell that from the first moment you walk into the Leading Family Hotel of your choice. After all, travelling with children doesn't mean you have to miss out on luxury. That's why the family hotels in Austria and Italy have one common goal: becoming the No. 1 choice for family holidays in Europe.
Only the very best four-star superior hotels have made it into the group of Leading Family Hotels: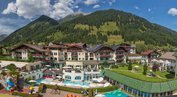 Hotel Alpenrose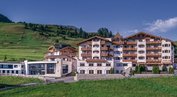 HoTels Löwe & Bär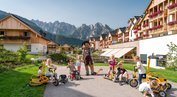 Hotel Dachsteinkönig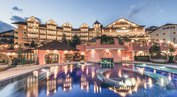 Cavallino Bianco Family Spa Grand Hotel
Comfort and luxury for guests of all ages
At all four Leading Family Hotels, you enjoy all-round luxury tailored to the needs of families. After all, the teams of the Leading Family Hotels know what's important for a family holiday – no matter if you're travelling with a baby, toddler or teenager.
The four-star superior service offered by the family hotels in Austria and Italy is focused on everything families need for an unforgettable holiday. Attractive extras from state-of-the-art leisure areas to professional childcare are included in your holiday package. First-class individual service and high-quality products are the cherry on top of your holiday cake.
Surrounded by luxury
During a holiday, families want to feel just like at home – only a little more luxurious! Luckily, the high-class amenities of the Leading Family Hotels make it easy to feel like in heaven. Appealing design, a family-friendly architecture and exclusive materials make your home away from home comfortable and inviting.
The state-of-the-art family suites offer plenty of space and comfort for the whole family – from spacious combined living and bed areas for the parents to separate children's bedrooms. After all, every family member should have a bit of private space on holiday. For an extra bit of holiday feeling, choose the luxury suites with private sauna and whirlpool.
First-class childcare
What would a first-class children's hotel be without first-class childcare services? At Leading Family Hotels, families enjoy a comprehensive childcare scheme for kids aged 0 to 16. On at least six days of the week, professional and loving childminders take age-appropriate care of your little ones.
Older kids enjoy the comprehensive entertainment and activities programme ranging from fashion shows to musicals and action-fuelled sports.
And what about the parents? While the kids are off having fun at the children's club, Mum and Dad can enjoy a carefree time-out indulging in the many four-star superior amenities …
Heavenly relaxation
If you're looking for a bit of relaxation, the best place to visit are the heavenly spa areas of the Leading Family Hotels. With their exclusive décor and comprehensive range of saunas, relaxation zones and high-quality beauty and spa treatments, they offer perfect opportunities for recharging your batteries.
Of course, the spa areas also feature lots of facilities for children. For instance, special children's spas and huge indoor and outdoor pools offer water fun even for the littlest ones. What's more, little pirates and mermaids will love the action-fuelled water parks with slides, playgrounds and splashing zones.
Relaxing family time: Did you know that the Leading Family Hotels offer special family saunas for guests of all ages?
Culinary holiday highlights
The mouth-watering cuisine of the Leading Family Hotels makes your family holiday in Austria or Italy even more delicious. High-quality ingredients are carefully prepared to create little gourmet moments for guests of all ages – from breakfast right to dinner.
Comprehensive buffets and free drinks make your holiday with kids even more stress-free. After all, this allows every family member to pick their favourite holiday treats.
Hello, adventure!
The Leading Family Hotels are an all-year holiday paradise for active families. Three of the four-star superior hotels are located right beside great ski resorts, offering snow fun for the whole family. And if you're looking for some off-piste action, why not try tobogganing, ice skating, snow-shoe hiking or snowman building?
The spectacular nature surrounding the family hotels in Austria and Italy also offers countless outdoor options in spring, summer and autumn. Climbing, hiking, swimming, mountain biking or horseback riding – the choice is all yours at Leading Family Hotels! Wouldn't you agree that that's the stuff unforgettable holidays are made of?
You're planning your holiday activities? Be inspired by the many activities offered by the Leading Family Hotels, from cross-country skiing to tobogganing and mountain biking …