The five-star hotel Bär and the four-star superior hotel Löwe in Serfaus are the No. 1 choice for unforgettable holidays with kids in the Tyrolean Alps.
A paradise for families in Serfaus-Fiss-Ladis
The two high-class resorts in the traffic-reduced family and leisure region of Serfaus-Fiss-Ladis offer unrivalled family luxury holidays. Luxurious rooms, first-class baby and childcare, spacious spa areas and plenty of activities – that's the stuff unforgettable family holidays are made of!
Dream holidays in the family-friendliest region of the Alps
Playing on lush green mountain pastures, snowball fights in the glistening snow – the holiday region of Serfaus-Fiss-Ladis in the Tyrolean Alps offers countless opportunities for unforgettable holiday fun. With its impressive summits and spectacular mountain views, the sunny plateau is the perfect place for family outdoor adventures. After all, the Alpine region of Serfaus-Fiss-Ladis was awarded as Europe's family-friendliest holiday resort!
The huge hiking and ski resort right on the hotel's doorstep is a paradise for skiers, hikers, cross-country skiers, cyclists, climbers and other outdoor athletes. The region is full of surprises such as the world's smallest underground, taking guests from their hotel directly to the cable cars.
Great family highlights: The child-appropriate Thomas C. Brezina theme trails, Serfaus Experience World on the Komperdell, Hög Adventure Park or the Fiss Summer Funpark – the region is full of holiday highlights for guests of all ages!
Luxurious & cosy: Tyrolean-style suites
The children's hotels Löwe and Bär boast 131 luxurious suites in 24 different categories. Comfortable, fully furnished rooms ranging in size from 35 to 123 square metres offer plenty of space for all family members. High-quality materials and charming details make the Tyrolean-style suites even more inviting. As a special highlight, the Penthouse Suites even have a private panoramic sauna. What's more, rooms feature a fireplace, elegant oak flooring and breathtaking views of the surrounding mountain world.
Stylish living at Hotels Löwe & Bär
spacious combined living and bed area for the parents, separate children's rooms
king-size box-spring beds
south-facing balconies
flat-screen TV, telephone, safe and fridge
baby monitors
adjustable room ventilation
baby care set with HIPP products
towels and bathrobes for adults, children and babies
You're planning your next family holiday? Be inspired by the marvellous suites of the children's hotels Löwe & Bär!
A paradise for kids
Leave your pushchair, cot and highchair at home – at Löwe & Bär these and many more baby accessories are waiting for you free of charge! A comprehensive range of baby and children's products give you the chance to travel light, safe in the knowledge that you will find everything you need at your Leading Family Hotel.
Located right in the heart of the Tyrolean Alps, the five-star hotel Bär and the four-star superior hotel Löwe offer lots of extras for young holiday guests. A 300-square metre baby world and 2,000-square metre play area for children turn every holiday into an unforgettable experience. A huge, five-storey soft-play climbing facility, crafting, play and doll's areas, a huge ball pool, giant slide and the world's only Clip'n Climb hotel facility make every holiday wish come true. The spacious sports hall is the perfect place for a game of basketball, football, Badminton or some indoor biathlon. What's more, the hotels boast a 3D cinema as well as two stages for plays and magic shows.
What's more, both hotels have huge outdoor areas with spacious sandpits, trampolines, bouncy castles and two large outdoor pools. What's more, Hotel Bär boasts the biggest Beach Club of the Alps with 1,500 square metres of sand.
In case of bad weather, the spacious indoor water worlds are the perfect place for plenty of water fun. Both hotels offer indoor pools of up to 240 square metres as well as baby paddling pools, family saunas, a 60-metre tyre slide and 96-metre water speed slide.
Plus: Both hotels offer special swimming lessons for water-loving babies and children!
Your children in the best hands
In addition to countless highlights for kids, the Leading Family Hotels in Austria and Italy also offer plenty of great services for parents. To give Mum and Dad the chance to enjoy these delightful extras, the children's hotels Löwe & Bär offer excellent all-round childcare for kids aged 0 to 16. A total of 20 professional childminders takes care of your little angels during fun and age-appropriate activities, while you relax in the spa area or take a tour of the Tyrolean Alps.
Comprehensive baby and childcare at Hotels Löwe & Bär
childcare for at least 8 hours every day
special baby care with trained childminders
awarded the "Baby Perfect" quality seal by Kinderhotels Europa
free baby care and baby food set with HIPP products
comprehensive entertainment programme for kids up to 16 years of age
modern childcare concept with separate areas and entertainment for different age groups:

Baby & Toddler Club (0 to 3 years)
Mini Club (3 to 6 years)
Maxi Club (6 to 11 years)
Teens Club (12 to 16 years)
Excellent baby and childcare: Learn more about the first-class childcare services of the Leading Family Hotels!
Relax and unwind
If you know your children to be in safe hands, you can fully enjoy your time at the luxurious, spacious spa areas of the five-star hotel Bär and the four- star superior hotel Löwe . Pamper yourself with a heavenly spa or beauty treatment, discover the different saunas or unwind in the relax area with panoramic views of the breathtaking Tyrolean mountain world.
Experience true well-being in a unique atmosphere and enjoy your well-deserved time-out!
Your wellness highlights at Hotels Löwe & Bär
spa with several rooms for massages, bath and beauty treatments (28 treatments to choose from)
sauna landscape with 5 saunas including a Finnish sauna, bio clay sauna and Tyrolean sauna
2 herbal steam baths
splash shower and rock ice grotto
panoramic relaxation room with breathtaking mountain views
relaxation room with waterbeds
whirlpool with outdoor area
2 gyms with state-of-the-art Technogym equipment
Relaxation for body and soul: Relax in the wonderful spa areas of the five-star hotel Bär and the four-star superior hotel Löwe in the Tyrolean Alps!
Family adventures
With their magnificent location right in the Tyrolean Alps, the luxury hotels are a perfect base for family excursions. The Serfaus-Fiss-Ladis holiday region is a paradise for families and athletes. From its comprehensive infrastructure to the varied range of activities, Serfaus-Fiss-Ladis is focused on discerning families, both in summer and winter.
Mountain bike or Segway tours, rafting adventures, canyoning, adventure hikes, family trips to "Murmliwasser", swimming and playing at Hög Adventure Park or the Fiss Summer Funpark – the holiday resort is full of thrilling highlights. What's more, two summer toboggan runs, the Schönjoch children's mine, a Flying Fox and X-Trees high-rope course make for even more holiday action. One of the region's highlights is the Skyswing, a hang-glider 47 metres above the ground, swooping you across the Tyrolean Alps with speeds of up to 80 km/h. Another great place for an adrenaline rush is the local bike park with trails of all difficulty levels.
The best thing about it: With the Super.Sommer.Card (free for guests of the Leading Family Hotels), you can use the region's cable cars, underground and hiking bus for free!
In winter, Serfaus-Fiss-Ladis boasts a huge family ski resort. 214 kilometres of perfectly groomed slopes, 9 fun areas and a 125,000-square metre family and kids' area make your ski holiday in the Tyrolean Alps truly unforgettable. What's more, thanks to its great location, Serfaus-Fiss-Ladis is known for its all-season snow reliability. Little ski bunnies learn how to master their first turns in the snow during special children's ski courses while Mum and Dad whiz down the wide slopes or enjoy some couple time at one of the 25 feelgood stops, 32 family-friendly mountain huts and restaurants or on the 30 kilometres of winter hiking trails. After all, there's a reason why Serfaus-Fiss-Ladis is one of Europe's five best winter sports resorts!
There's lots to discover in the vicinity of Hotels Löwe & Bär! Find out about the best activities in the holiday region of Serfaus-Fiss-Ladis!
High-class cuisine
Cosiness, authentic Tyrolean charm and mouth-watering treats – the Leading Family Hotels Löwe & Bär are the best place to enjoy all-day deliciousness. The hotels' cuisine is focussed on families, offering culinary highlights for guests of all ages. Varied gourmet menus offer treats for all tastes, based on regional and seasonal ingredients and careful "sous-vide" preparation. While the parents enjoy the culinary delights of the four-star superior kitchen, the children are having a fun meal with Lucky Luke at the children's dining area.
The kitchen teams of the two family hotels are also happy to cater to special dietary requirements. No matter if you're a vegetarian or have certain allergies – the family restaurants at Hotels Löwe & Bär offer something for every taste!
Focussed on families: The restaurants of the five-star hotel Bär, as well as the four-star superior hotel Löweare all about families, offering amenities from highchairs to booster seats and from bibs to children's cutlery. The comprehensive baby corner with HIPP products in the entrance area of the restaurant is open all day.
Culinary delights for the whole family
comprehensive breakfast buffet with fresh egg dishes
varied lunch buffet with daily specials, starters and salads
sweet and savoury afternoon snacks
choice of set dinner menu plus salad and cheese buffet
children's ice-cream buffet in the evening
theme buffets ranging from "Tyrolean nights" to formal dinners
cold soft drinks during opening hours
You should spend your family holiday at Hotels Löwe & Bär if …
… you're looking for a holiday destination that was awarded as Europe's family-friendliest ski resort and also has lots to offer in summer.
… you always wanted to enjoy beach feeling with mountain views at the Bär's Beach Club.
… your kids can't wait to tackle the world's first Clip'n Climb hotel climbing facility.
… you want to experience family-friendly first class star level service, caring baby and childcare and the huge play and water worlds of two hotels for the price of one.
Arrival & contact details
Löwe - Bär Hotels GmbH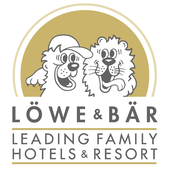 Herrenanger 9, 6534 Serfaus
AT