A well-deserved time-out for Mum and Dad
There's nothing better than a holiday with the family. Finally, you get to spend some quality time with your loved ones far away from the hustle and bustle of everyday life. Without any stress or pressure, parents love to have fun with their children and discover new things together with them.
However, in addition to the precious time spent with the kids, Mum and Dad also deserve a little parent's time-out during their holiday. Even if relaxing at the spa or simply whiling away the day sound totally boring to your kids – you also have a right to enjoy your holiday your way!
As the Leading Family Hotels in Austria and Italy have made it their mission to offer the perfect holiday experience for every family member, they boast great highlights for both children and parents.
The hotels' professional childcare services make it possible for Mum and Dad to enjoy a short parent's time-out savouring the hotels' first-class spa, sports and culinary offers without having to worry about the well-being of their kids.
Well-deserved luxury
Your kids care more about fun and games than for a luxurious room and high quality standards? That doesn't mean you have to miss out on some holiday luxury – on the contrary! Leading Family Hotels offer parent-proof luxury in combination with a child-friendly atmosphere – topped off with four-star superior amenities.
You can already feel an air of luxury upon entering your beautiful family suite. A cosy combined living and bed area offers plenty of privacy for the parents while the little ones are sleeping all safe and sound in their separate children's rooms. The Luxury Suites even offer a bit more glamour – from a private sauna to your own whirlpool and flat-screen TV in the bathroom.
Your children in the best of hands
Leading Family Hotels want to give their adult guests the gift of some well-deserved time as a couple.
Of course, we know that you can only truly enjoy your little parent's time-out if you know your children to be in the very best hands. That's why the family hotels in Austria and Italy offer four-star superior childcare services for all of their guests.
On at least six days of the week, kids from 0-13 years of age are perfectly cared for in different age groups by our trained childminders. Up to 12 hours a day, they get to enjoy a varied programme of activities including magic shows and handicrafts, swimming lessons and mountain excursions. Rumour has it that some young guests don't even want to leave the children's club at the end of the day!
Best childcare: Discover the outstanding childcare services of the Leading Family Hotels …
Wellness for body and soul
While your little ones are having fun at the kids' club, you can enjoy a little parent's time-out, exploring your surroundings or simply doing nothing at all.
Sweet idleness is best enjoyed at the spacious spa areas of the Leading Family Hotels. The luxurious wellness landscapes are the perfect place to relax and unwind, offering several relaxation zones and saunas as well as a wide choice of professional beauty treatments.
Heavenly relaxation: Dive right into the wellness worlds of the family hotels in Austria and Italy!
Get active
You rather want to spend your little parent's time-out outdoors? No problem! The marvellous landscapes surrounding the Leading Family Hotels in Austria and Italy offer plenty of opportunities for unforgettable activities!
Marvel at the beauty of the mountain world on a couple hike, let off some steam during a challenging bike tour or try something new. For instance, have you ever tried cross-country skiing, golfing or a Segway tour?
Of course, many of these sports are also suitable for children, making them a great choice for family activities. After all, what could be more unforgettable than a little holiday family adventure?
What are you up to on your next holiday? Discover the many activities and attractions of the Leading Family Hotels …
The taste of perfect holidays
Everyone knows that the way to a man's (and woman's) heart is through their stomach. That's why every romantic parent's time-out should include a selection of culinary delicacies. Luckily, the kitchen teams of the Leading Family Hotels in Austria and Italy know just what parents want.
Enjoy an extended breakfast together with your sweetheart or sample a glass of our exquisite wines. And when was the last time you had time for a romantic candle-light dinner?
At the restaurants of the Leading Family Hotels, you enjoy the very best of international holiday cuisine. Carefully selected ingredients and sophisticated recipes turn every meal into a taste explosion. Your kids don't really care about fine dining? Don't worry, your little rascals can pick their favourite holiday treats right from the children's buffet!
A little taste of what's to come: Discover the exquisite cuisine of the Leading Family Hotels …
SPOILT FOR CHOICE
Ob Österreich oder Italien – alle Leading Family Hotels bieten perfekte Voraussetzungen für einen gelungenen Familienurlaub. Eine kinderfreundliche Infrastruktur, ausgezeichnetes Betreuungsangebot sowie ein umfangreiches Unterhaltungsprogramm sind in allen Hotels selbstverständlich. Neben zahlreichen Extras für die Kleinen warten in den Familienhotels aber auch jede Menge Highlights für die Großen.
ALL HOTELS AT A GLANCE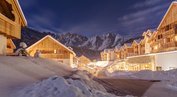 Hotel Dachsteinkönig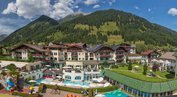 Hotel Alpenrose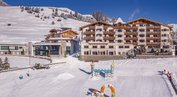 Hotels Löwe & Bär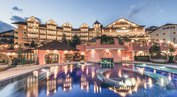 Hotel Cavallino Bianco