Hotel Dachsteinkönig is not just a dream destination for mountain lovers and passionate hikers. Located at the foot of the spectacular Dachstein mountain range, the family hotel offers four-star superior luxury for guests of all ages.
A family paradise at the foot of the Dachstein
The family hotel and exclusive chalet village has everything families could want from an unforgettable holiday in the Alps. From a thought-out infrastructure to first-class childcare services and from a varied entertainment programme to a heavenly spa area. In short: the complete package for a perfect family holiday!
Dream holidays with panoramic views
Impressive summits, crystal-clear mountain lakes, lush green meadows and woods – the location of Hotel Dachsteinkönig couldn't be more beautiful! The breathtaking landscape at the foot of the Dachstein not only offers unforgettable views of the Gosaukamm but is a perfect base for outdoor adventures in one of the most beautiful regions of Austria.
Right on your doorstep waits every outdoor athlete's dream. A spacious hiking and skiing resort offers perfect opportunities for skiing and snowboarding, snow-shoe hiking and tobogganing, hiking and lots of other outdoor adventures.
Only a stone's throw from the hotel, the charming village of Gosau, the picturesque Gosau Lakes and the world-famous UNESCO World Heritage site of Hallstatt offer great opportunities for unforgettable day trips. There's hardly a more beautiful place to marvel at the mighty Dachstein range and breathe in the clean Alpine air!
In love with the mountains? Find out more about the unique Dachstein West holiday region …
Luxury living
With its twelve chalets and perfectly equipped family hotel, the Dachsteinkönig offers first-class luxury for guests of all ages.
Right at the foot of the 3,000-metre Dachstein range, guests can choose from cosy single and double chalets with a wide range of amenities. Spanning two floors, they offer plenty of space for all family members. Several children's rooms offer a comfortable retreat for your little ones to play and relax while a lovely fireplace and private sauna are the cherries on top of your luxury holiday experience.
A stay at the Dachsteinkönig Children's Hotel isn't any less luxurious, with 105 family suites with comfortable children's rooms and lots of other extras.
Are you planning your next family holiday yet? Learn more about the charming chalets and family suites of Hotel Dachsteinkönig!
Big smiles on little faces
Happy children equal happy parents. That's why Hotel Dachsteinkönig puts the spotlight on the youngest guests. Families enjoy a comprehensive range of free baby accessories and other amenities like highchairs, cots and pushchairs so they can travel light.
Toddlers and kids will feel right at home at the beautiful family hotel at the foot of the Dachstein. At the huge outdoor area, little explorers are truly spoilt for choice. Where to head to first? Adventure playground or bouncy castle? Children's vehicle course, petting zoo or e-trial course?
Even if the sun isn't shining, there's never a dull moment at Hotel Dachsteinkönig thanks to a 2,000-square metre indoor play area with cinema and theatre, two-storey soft-play facility, sports hall and indoor karts.
And what about little mermaids and pirates? They are free to roam the spacious pool area with family zones, children's pool and tyre slide!
In the best hands
In addition to numerous highlights for children, the family hotel in the Dachstein West holiday region offers lots of extras for the parents as well. To give you the option of a little parent's time-out, Hotel Dachsteinkönig has a first-class childcare scheme. 25 trained childminders take care of your babies and kids in five age groups, pampering them while Mummy and Daddy are enjoying some precious couple time.
Childcare highlights at Hotel Dachsteinkönig
7 days per week
08:00-21:00
Baby Club (0-1 years)
Toddlers Club (1-2 years)
Mini Club (3-5 years)
Godei Club (6-11 years)
Teenie Club (12-16 years)
Experience four-star superior childcare services: Find out more about the excellent childcare programme of the Leading Family Hotels!
Holidays for body and soul
While your little ones are having fun at the Kids Club, older children and adults enjoy the comprehensive sports and spa offers of the Dachsteinkönig.
Exercise at the perfectly equipped gym with views of the Gosaukamm or practice your swing at the indoor golf simulator. Or how about relaxing at the hotel's 1,000-square metre spa area?
The hotel's two private spa suites are the perfect place to relax in a particularly exclusive atmosphere and enjoy soothing spa treatments as a couple.
Heavenly highlights for wellness fans
spa with 11 rooms for massages, bath and beauty treatments
sauna area with bio sauna, herbal sauna and steam bath
panoramic outdoor sauna (Finnish sauna)
relaxation room
chat and relax zone with juice bar
sauna garden with relax loungers
Dive into relaxation: Find out more about the wellness world of Hotel Dachsteinkönig ...
Experiences for the whole family
With its picturesque location in the Dachstein West holiday region, Hotel Dachsteinkönig is a perfect base for activities and excursions with the whole family. For instance, how about an exciting family bike tour? For the necessary equipment, simply head to the hotel's own bike rental.
The vicinity of the hotel also offers perfect opportunities for many more outdoor sports. You're feeling like a beautiful hike, a mountain bike or climbing tour? Or what about a rafting adventure or guided Segway tour? All this and more is easy to experience in your holiday paradise at the foot of the Dachstein range!
If you don't feel like sports, lots of unforgettable attractions are only waiting to be explored near your family hotel. Make some unforgettable holiday memories during a visit to the spectacular Dachstein giant ice caves or the breathtaking viewing platform on the Krippenstein. Or how about a romantic stroll through the UNESCO World Heritage Site of Hallstatt?
So much to see and do: Discover the best activities for your next family holiday now …
The taste of a perfect holiday
The four-star superior hotel in the picturesque village of Gosau offers family holidays for all senses. Naturally, this includes mouth-watering delights from the hotel's all-inclusive gourmet kitchen.
Varied theme buffets offer fresh, regional and seasonal products for every taste. What's more, the hotel's kitchen team is also happy to cater to individual dietary requirements from vegetarian or vegan meals to options for certain food intolerances.
Mouth-watering delights at your family hotel
comprehensive breakfast, lunch and afternoon buffets with sweet and savoury treats
theme buffets with live cooking in the evening
24/7 dispenser for soft drinks, coffee and tea
Culinary highlights for gourmets of all ages: While the kids are having fun at the children's dining area, Mum and Dad can sample the delights of the hotel's wine cellar with more than 400 exquisite wines!
You should spend your family holiday at Hotel Dachsteinkönig if …
… you and your family love to wake up to beautiful mountain views.
… you and your children love the privacy of a luxurious holiday chalet without missing out on some convenient hotel amenities.
… your children always wanted to go to the indoor swimming pool, visit the petting zoo and do a kart race on the same day.
… you are a passionate golfer and don't want to miss out on your favourite hobby while on holiday – the Dachsteinkönig has an exclusive indoor golf simulator waiting for you!
Only a few clicks away from unforgettable family moments: The comprehensive luxury offers of the Dachstein West holiday region are just perfect for you and your family?
Book your next family holiday at Hotel Dachsteinkönig now!

Arrival & contact details
Leading Family Hotel & Resort Dachsteinkönig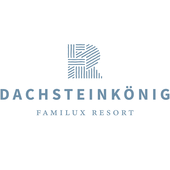 Am Hornspitz 1, 4824 Gosau
AT