Holiday delights for families
The Leading Family Hotels in Austria and Italy know that the way to a holiday guest's heart is through his or her stomach. What better way could there be to start an exciting day of family fun than with a luxury breakfast for children and parents?
You can also sample the most mouth-watering holiday delights during lunch, dinner and afternoon snacks. After all, the Leading Family Hotels are all about quality – from the most carefully selected ingredients to the best selection and most child-friendly ambiance.
Great selection for parents and kids
Holiday guests of all ages are spoilt for choice when it comes to the abundant delicacies served at the restaurants of the family hotels in Austria and Italy. Because a holiday with kids is all about flexibility, the restaurants of the Leading Family Hotels offer a wide range of buffets and tasty set menus every day – all included in the package price. With so many delicacies to choose from, it's easy for gourmets young and old to pick their favourite holiday treats from the first-class breakfast and lunch buffet or the delicious set dinner menu.
Our tip: Little (and big) sweet-tooths will love the irresistible afternoon cake buffet!
Families in the spotlight
The last thing you need on a holiday with the whole family is stress. That's why at the restaurants of Leading Family Hotels, eating is relaxed and stress-free even with small kids.
No need to wait for the food to be served – the little ones can simply grab their favourite treats from the children's buffet. Soft drinks come straight from the tap for a quick and easy refreshment.
In the meantime, Mum and Dad also enjoy the first-class international hotel standard during a delicious gourmet menu or exquisite glass of wine. After all, the wine cellars of the luxury family hotels are home to about 20,000 premium wines – just ask the service staff for recommendations!

Best quality for gourmets of all ages
Leading Family Hotels are all about quality. This principle applies to the selection as well as the preparation of all dishes. Only carefully selected ingredients – most of them regional and organic – make their way into the lovingly composed meals, while different theme nights make for even more variation.
Of course, the kitchen teams of the Leading Family Hotels are also happy to cater to special dietary requirements. No matter if you have allergies, are a diabetic or vegan – there's no limit to culinary holiday delights at the Leading Family Hotels in Austria and Italy!
Family-friendly ambiance
It's easy to see that the restaurants of the Leading Family Hotels were designed especially for families. Their inviting architecture creates a particularly family-friendly atmosphere, while small, tastefully furnished dining areas offer plenty of privacy. What's more, families enjoy convenient extras from highchairs to baby food jars.
The trained service staff will be happy to tend to your special needs or requirements. After all, they know what's important for families!
Culinary highlights to look forward to …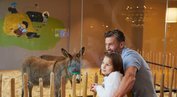 Snacks with a view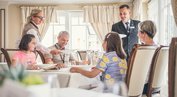 Balanced & healthy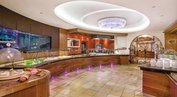 For the littlest ones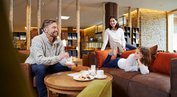 Fine wine for Mum & Dad
Ready for the next adventure: The culinary delights served at the Leading Family Hotels are the perfect way to boost your energy for an exciting day of family adventures. For instance, how about joining a breath-taking hike or mountain bike tour right after breakfast?