Enjoy precious family time
What could be more appealing than a holiday with the whole family? To finally enjoy some precious family time far away from the hustle and bustle of everyday life? However, the ingredients for a perfect family holiday are as individual as they come – especially if different age groups go travelling together!
To be able to cater to every family member's individual taste, the Leading Family Hotels offer a wide range of services tailored to unforgettable family holidays. With lots of fun and action for the little ones and plenty of heavenly relaxation for the parents. Add to that family-friendly amenities like spacious family suites, fun water worlds, delicious food and exciting excursions and what you get is your unforgettable family holiday in Austria and Italy!
Sounds good? Find out more about the Leading Family Hotels in Austria and Italy …
Holidays for discerning families
Who wouldn't want to enjoy their well-earned family time-out to the fullest? At a hotel where everyone feels right at home, surrounded by lots of 4-star superior amenities? After all, family holidays don't mean you have to miss out on luxury – far from it!
The Leading Family Hotels in Austria and Italy offer a high-class holiday experience for the whole family. The four-star and four-star superior hotels meet the highest quality criteria and offer everything families need for an unforgettable holiday.
No matter if you spend your well-earned time-out in the Dolomites, at the foot of the Dachstein or in the beautiful province of Tyrol – every single Leading Family Hotel offers international hotel standards with a wide range of amenities. Expect a perfect infrastructure and sophisticated design combined with delicious food and spacious spa areas for children and adults. Leading Family Hotels stand for quality without compromise, tailored to the needs and wishes of discerning families.
Luxury for families: Find out more about our high standards for families …
A convenient infrastructure
From the moment you step through the doors of your Leading Family Hotel, one thing is apparent: everything here is focused on family happiness. It starts with the perfectly planned family suites that offer plenty of space and amenities for all family members. A spacious combined living and bed area for the parents, a separate sleeping area for the kids – that's what a cosy holiday accommodation for the whole family should look like!
Families travelling with new-borns or babies enjoy a wide range of free baby accessories ranging from cots to baby bouncers, bottle warmers and more, allowing you to travel light.
Of course, the family hotels' thought-out concept doesn't stop at the rooms – the rest of the hotel is just as inviting and family-friendly! Huge water parks with slides, soft-play areas and playground put big smiles on little faces, while Mummy and Daddy can relax at the spa area or out on the sun terrace.
Unique childcare services
If the whole family goes on holiday together, interests of the individual family members can be quite different. While the children are always looking for the next adventure, the parents could do with a little relaxation and simply doing nothing.
To be able to cater to every family member's individual wishes, the Leading Family Hotels & Resorts offer a unique childcare scheme. On at least six days of the week, the professional childminders of the hotels' kids' clubs take care of your children aged 0 and 13 for up to 12 hours per day. Loving baby care, fun and games for toddlers and plenty of adventures for older kids – that's the way to young holiday guests' hearts!
And the parents? They can enjoy a carefree parent's time-out during a beauty treatment at the spa area, a challenging cycling tour or a romantic glass of wine …
In the best hands: Find out about the unique childcare services of the Leading Family Hotels …
Care for ...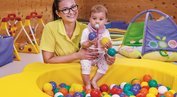 Babies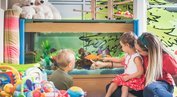 Toddlers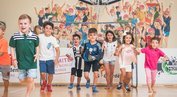 Kids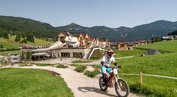 Teenagers
Heavenly spa offers
What parents often want most from a holiday is to relax and unwind. And there's no better place for it than the state-of-the art spa areas of the Leading Family Hotels! Spacious wellness facilities with a wide choice of different saunas and relaxation rooms are a heavenly place to while away the day. Or how about a professional beauty or wellness treatment?
The spa areas are also a great place for the kids. Special children's spas and family saunas are tailored to the needs of young guests, getting the little rascals into relaxation mode in no time at all. And if your kids are looking for a bit more action – simply head to the huge water parks with slides and splashing areas for the little ones!
Feels like heaven: Discover the irresistible wellness offers of your family hotels in Austria and Italy …
Boring? Anything but!
Located at the most beautiful spots of Austria and Italy, the Leading Family Hotels & Resorts offer endless opportunities for great activities and excursions for the whole family.
Young and young-at-heart guests enjoy breathtaking hikes to lush mountain pastures or fun mountain bike tours. Or how about a family Segway tour?
No matter if you spend your holiday in the South-Tyrolean Dolomites, the Zugspitz Arena, Serfaus or the Dachstein West holiday region – all Leading Family Hotels are surrounded by awe-inspiring nature made for family adventures!
What's on your holiday agenda? Discover the best activities for your next family holiday …
Mouth-watering holiday cuisine
The most delicious way to start or end an exciting day of holiday is with the four-star delicacies of the Leading Family Hotels. From breakfast to lunch and from afternoon snacks to dinner, the children's hotels serve carefully selected and prepared food for all tastes.
Mealtimes at Leading Family Hotels are relaxed and stress-free. After all, the family restaurants offer a wide choice of set menus and comprehensive buffets, making it easy for every family member to pick their favourite holiday treats. No matter if you love meat or veggies, salads or dessert – the Leading Family Holidays offer something for every taste!
A taste of what's to come … Learn about the mouth-watering cuisine of the Leading Family Hotels …